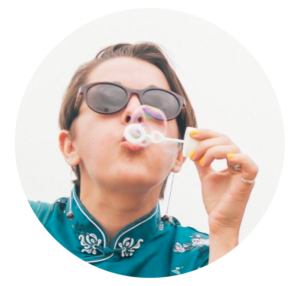 Hi, I'm Lorena, the woman behind Lorelsberg.
I created my first design when I was 2 years old… haha, no I'm just kidding. Even though I've dabbled in what I guess you can call the "arts and crafts" forever, I've come to be the creator of Lorelsberg in a bit of a roundabout way.
I'm your pretty average city woman, working the 40h/week office job, trying to balance work, life, friends, family, hobbies, holidays, and the dog while maintaining some sort of baseline level of "It's okay. I'm an adult. I've got this. And I'm not freaking out at all…"
When I can, I try to get out of the grind and go spend a day outside, going to a lake or just going for a walk through the park. Or even better yet, go on a proper holiday, hiking in the mountains or chilling on a beach.
Looking at the ocean or a snowy mountain range makes the stuff that stresses me out seem so beautifully unimportant, I wish I could just stand there forever. But alas, I can't really afford to spend all my waking hours looking at nature. So instead, I started creating these nature-inspired illustrations, using simple shapes in happy bright colours, as a creative outlet after work.
Eventually, I started looking for a way to bring these illustrations to life because, while they're still pretty to look at on my computer, spending more time looking at screens wasn't really the idea.
I tried printing posters, so I could hang them up at home, and bags, so I could carry my favourite designs around with me (and stare at them when trying to escape the misery that is a morning commute on public transport).
This is exactly what you will find in my shop: my favourite illustrations printed on products I personally love using every day.
I really hope you find a design you love and that will bring you some joy and happiness.
Stay awesome!
Love,
Lorena